Why We Utilize 3D X-Rays and CBCT for Root Canals/Implants
Just like all other facets of life, dental technology has been improving. Today, dentists all over the United States are providing patients with quality care, thanks to these technologies. However, one of the most fascinating yet crucial developments that are soaring high is in diagnostic dentistry. With the arrival of 3D X-Ray and CBCT technology, dentistry has taken a different turn. However, the general public still does not understand fully what three-dimension (3D) x-rays and CBCT technology entails, how this technology has impacted the quality of dental practice, and the benefits of the 3D dental x-ray.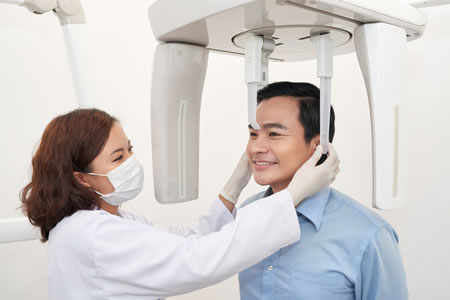 What is CBCT?
CBCT stands for dental cone-beam computed tomography. This special 3D x-ray technology is employed by dentists when facial and other x-rays are not good enough to show what is happening around a tooth. A dentist will use CBCT technology to produce three dimensional (3D) images of parts such as soft tissues, bones, teeth, and nerve pathways in one scan, this is especially necessary when placing implants.
You should let your doctor know if you are pregnant before going for this procedure. However, there is no special preparation required.
What are 3D X-Rays?
3D x-ray dentistry involves the dentist taking 3D images of the skull and mouth. Unlike traditional x-rays that only develop two (dimensional) 2D images of the mouth, this more recent technology utilizes 3D x-ray and takes a shorter time to create multiple pictures while being less intrusive to patients than the 2d x-ray. 3D x-rays allow dentists a better and more effective view of the mouth and these pictures are used for treatment planning and diagnosis.
Advantages of these the 3D Dental X Ray
The benefits of 3D include:
Shorter scan times.

CBCT scans can acquire a complete, accurate scan in a single rotation. This means that there are fewer chances of image defects as the scan follows the patient's natural movement. This single rotation also takes a shorter time.

Beam limitation.

In CBCT digital process, the radiation is limited to only the mouth or other areas of interest. That means that you are exposed to less radiation unlike with the 2D x-ray.

Details.

Unlike 2D x-ray imaging, the 3D dental x-ray allows the detail in just one scan. The dentist can catch infections, pathology, muscles, anatomy and anything else of interest. Subsequently, doctors can plan for sinus treatment if it is caused by dental issues, extractions, implants, and more.

User-friendliness.

Apart from the less radiation advantage, 3D dental x-ray equipment is easy to use for a trained dental technician.

3D display.

Dentists value this technology because of its unique ability to show features and images in 3D, which traditional x-rays could not. They can simply annotate, magnify, or reorganize data that is presented on the image.

Accuracy.

Thanks to its immense resolution, using 3D imaging allows dentists accurate measurements that can be used to know the exact point where a dental procedure will need to be carried out. Apart from image accuracy, using this technology also provides diagnostic accuracy. By being able to differentiate between different tissue types, the dentist can identify infections and abnormal sinuses which helps with treatment through this digital process.

Bone quality assessment.

This digital process is crucial for helping dentists establish/see if there is sufficient bone before implant placement and if there are lesions and breaks and the size of these.

The non-intrusive procedure with minimal radiation exposure.

For a patient, prolonged radiation exposure can cause problems including eye damage and other malignancies that may present a health risk. This procedure is also non-intrusive as the patient does not need the patient to do anything.

Lower costs.

This technology is less-expensive as we have it in-office and you will not need to go to a third-party to get a scan done. You will also not have to wait for days to schedule an appointment and days for the result and in order to view it.
Ensure that you get the best professionals for your CBCT and 3D x-rays by ensuring you have the right dentist.